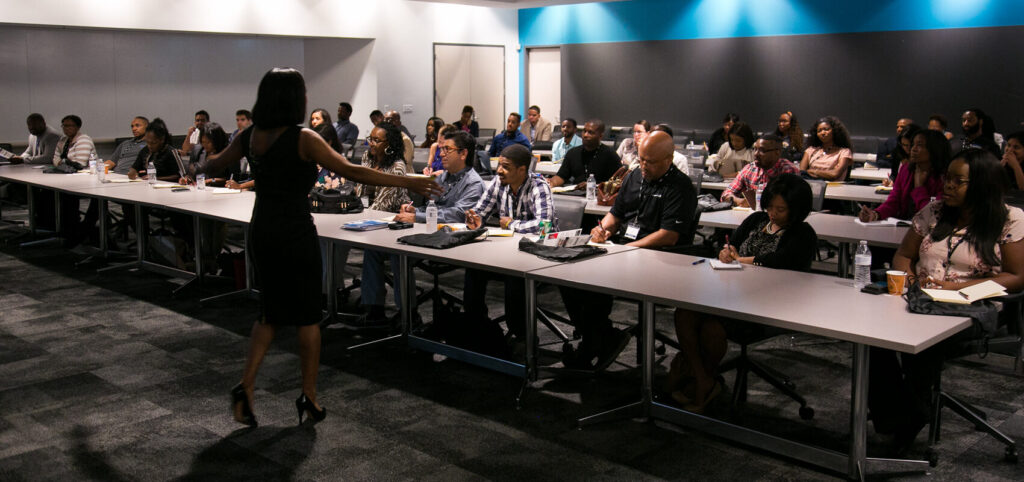 The Scarlet Institute is a collection of trainings, programming and coaching solutions designed for our corporate partners.
With an ever-changing world, workplace and business terrain, it is essential that we tool both rising and established leaders with the necessary skills, tools and connections to both elevate to their next level of leadership and serve as a model for those team members following in their footsteps.
In support of this leadership developmental imperative, we execute leadership trainings and initiatives that provide support and development to leaders at all levels.
Our trainings provide an opportunity to fully embrace key organizational values while being tooled with essential skills to elevate and enhance their leadership toolkit.
Leadership Cohorts

Establishing Meaningful Connections & Mentors: The New Approach to Networking
Reframing Challenges, Roadblocks & Hurdles
Using Your Voice Authentically & Intentionally (Public Speaking)
Leading Through Fear & Uncertainty
Working Across Different Work & Leadership Styles
Graduation & Closing Luncheon/Dinner

The Scarlet Institute Leadership Cohort is a multi-month leadership intensive designed for 15 individuals within an organization. This immersive experience provides participants with an opportunity to elevate in their leadership journey while building unique relationships across the organization.
Webinar Series

There is a continued opportunity to execute virtual engagements that provide practical and implementable leadership skills and techniques in support of internal change and opportunity. These webinars are designed to maximize momentum and ensure knowledge retention and continuity.

360 Leadership: The Look & Actions Of A Leader (inclusive of both in-person and virtual appearance, dress and presence)
The Importance of Non Verbal Communication
Your Leadership Legacy (inclusive of managing the home life vs. work life)
Customer Service & Leadership
Perceptions & Untold/Unsaid Leadership Tips
Operating & Effectively Running A Meeting
Fireside Chat & Keynotes

In support of organizational leadership goals, we can facilitate and moderate both internal and external fireside chats and keynotes.
Leadership Summit

This day-long immersive training will provide an opportunity for both individual and collective leadership development training and elevation.

The content will align with ensuring that each participant is inspired to create their own leadership legacy along with learning essential everyday leadership tools, frameworks and easily implementable processes.

While the Summit can be themed based organizational needs, many corporate summits have been focused on "Leadership Legacy".

Participants will leave the Summit inspired, refreshed and ready to embrace their inner leader!

In preparation for the Summit, participants will received a curated Leadership Box sent directly to them, filled with:

The book, Leader by Mistake: Becoming A Leader One Mistake At A Time
Summit Workbook
Custom Welcome Letter
Leadership Motivational Material
Leadership Coaching

Leadership Coaching can be executed across multiple sessions. An example of potential coaching topics are:

Advancing From Actively Doing To Strategically Influencing and Delegating
360 Leadership: The Look & Actions Of A Leader (inclusive of attire and presence)
Developing and Executing at the Executive Level
Effectively Speaking and Presenting at an Executive Level (inclusive of a multi-week professional speaking intensive)
Managing Perceptions & Untold/Unsaid Leadership Directives
Managing Leadership Doubts
Influence and Decorum in Social Settings (casual and formal dining decorum)
Benchmarking and Scaling or Industry Impact